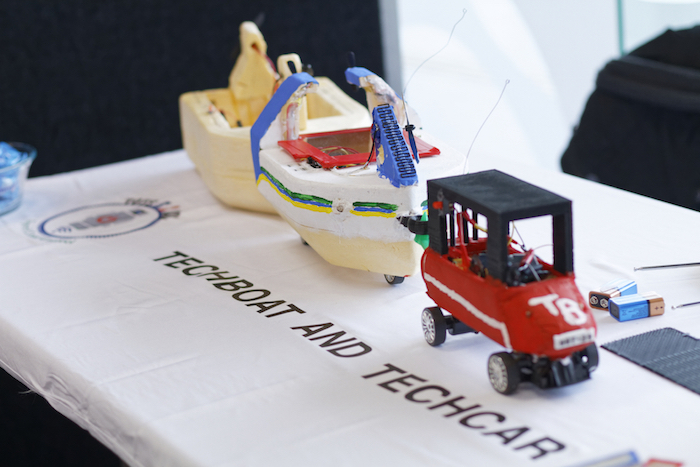 This year was the second time Young ICT Explorers (YICTE) was held in Melbourne and without a doubt it was a terrific success. Monash University kindly hosted the event at their Caulfield campus.
The day started out cold and grey as it often can be in Melbourne in August, but we knew we were in for a great day when students and their parents started queuing at the door at the crack of 7:30am.
Compared to last year we had twice the number of schools competing, two and a half times the number of projects and almost three times the number of students attending.
The range and diversity of projects submitted was as impressive as ever and a credit to the students that created them and their amazing imagination. Well done to all those that entered and be sure to start thinking now about projects for next year.
We would like to thank our Guest Speaker Akansha Kapoor for her inspirational talk, the volunteers, our esteemed judges and the numerous supporting parents and teachers without who the event would not have been possible.
Now onto the winners….
Year 3-4
1st Place: Doncaster Gardens Primary School with Robotic Table Soccer (by Christian Lai, Kiarash Abbasi and Andrien Lo)
2nd Place: Rowellyn Park Primary School with Shape My World (by Nim Gunawardena, Isla Young, Taylah Jackson and Joyston Rayan)
Year 5-6
1st Place: Independent Entry with Ball Sports – An Interactive Guide (by Dylan Beaumont)
2nd Place: Albert Park Primary School with BattleCry (by Lewis Brookie, Cyan Moder, Escher Moder, Maddi Dimasi)
3rd Place: Rowellyn Park Primary School with One World (by Trent Hughes, Gabe Cowell, Shekinah Lennon and Isabella Brennan)
Merit: Doncaster Gardens Primary School with AMSI (by Tom Cao, Vicki Cho, Renee Chew and Mina Bagtar)
Year 7-8
1st Place Equal: The King David School with TechBoat and TechCar (by Tomer Bareket, Blake Sharp, Ben Lesser)
1st Place Equal: Belgrave Heights Christian School with WW2 Aircraft Scene (by Ethan Hubbard)
2nd Place: Box Hill High School with Weather on your Wrist (by Michael Zhao)
3rd Place: Box Hill High School with Space Paint Shoot (by Nacanieli Hitchman)
Merit: Haileybury College with Learning to coding (by William Davies, Joseph Tey, Shyam Prasad, William Zhang)
Year 9-10
1st Place: John Monash Science School with The Lucky Block Minecraft Mod (by Alex Socha)
2nd Place: Belgrave Heights Christian School with Marshmellow Skirmish (by Ziggy Cross, Brodie Anderson, Dylan Fabre and Austin Rule)
3rd Place: Caulfield Grammar with Wearable Computer (by Max Breadmore)
Merit: Belgrave Heights Christian School with Adventures of Bill the Seagull (by Izaak Reiher)
Year 11-12
1st Place: John Monash Science School with Sensoring JMSS Project (by Dylan Sanusi-Goh, Anirudh Mittal, Ethan Payne, Pavel Zakopaylo)
2nd Place: East Doncaster Secondary College with Innumerable (by Steven Tang, Rhys Newbury, Matthew Ku, Anthony Lin)
3rd Place: Belgrave Heights Christian School with DECAYED AGE (by Laurence Schininer)
Merit: Good News Luterhan School with VOCALOID 3&4 + Holograms and App Productions (by Claire Wurster)
Student Choice: Caulfield Grammar with Wearable Computer (by Max Breadmore)
By Thomas Montague & Shannon Dooley