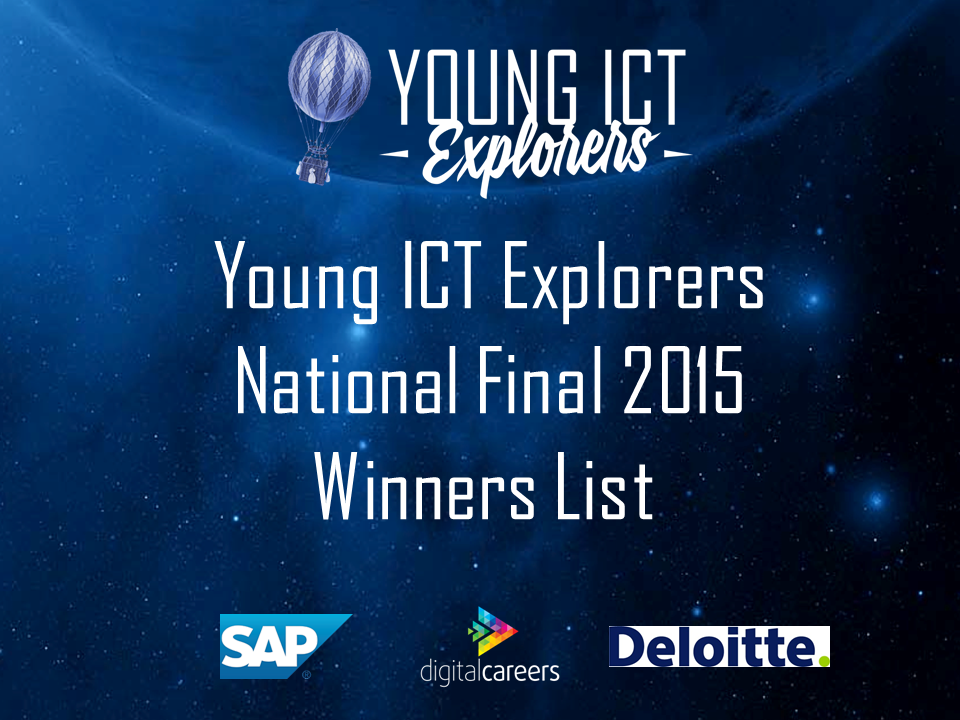 Our Inaugural National Judging Competition 2015 brought together all the 1st place winners from each state and regional competition. 35 teams travelled the length and breadth of the country, from as far away as Townsville in Nth Queensland and Perth in order to participate, with a number of teams who were unable to travel submitting video entries. Thanks to the SAP head office in North Sydney for providing the perfect venue and Digital Careers and Deloitte for their financial support. In addition to the project judging a number of other fun activities were available including portraits by a caricaturist and a Virtual Reality game with a HTC Dev kit, ensuring a memorable and fun event for all those who attended.
The winners in our first ever National Judging event are:
Year 3 – 4
1st  Place:The Cathedral School of St Anne and St James with My Dog (by Drew Carmichael)
I decided to build a Mindstorms EV3 robot to teach little children how to act when they feel; certain ways. This isn't a lesson that a terminator or giant insect should be teaching so I decided to make my robot a cute and cuddly puppy so that it would appeal to younger children. The children, and my brother, will be able to select a feeling using a range of colour cards, and  the puppy will respond to those cards with movements showing what that feeling looks like.
2nd Place: Arden Anglican School with SAFECROSS Driveway Warning (by Jessica Clark, Tyler Jackson, Rachel Gibson)
SAFECROSS will warn pedestrians when a car exits a driveway. SAFECROSS uses very bright flashing LED  lights and motion sensors to detect and warn pedestrians. SAFECROSS makes crossing busy driveways safer and easier. SAFECROSS makes it less stressful for drivers trying to use driveways with lots of pedestrians around.
3rd Place: Oakleigh State School with The World's Big Problems (by Haemish Lander-McBride, Aman Theslow and Andy Sansness)
This team are communicating key ideas related to three of the world's big problems. They have made a website and are incorporating surveys, data, movies and games they have created.
Year 5 – 6
1st  Place: Roseville College with Always Close Pi (by Sophie Allen, April Draney)
Our project is a piece of equipment which can be used for people living by themselves, so that their family can check on them regularly and make sure they are alright. It consists of a Raspberry Pi, camera, and screen.
2nd Place: The Friends' School with New programming language (by Alex Boxall)
My project is a programming language which you can make animations and very simple games. It was designed so you could easily create graphics without entering many lines of annoying code. To create a program, a pop-up box will appear asking you for you to type in a command. Some commands will instantly have an effect, and some you need to 'run' the  program, by typing 'run' into the pop-up box. It is created in Python, the language I am trying to improve.
3rd Place: SHEN and MLC School with Modelling Heart Disease (by Isabell Dahlke, Kaya Dahlke, Sophie Ogilvy)
We want to help research a cure for heart disease, specifically for plaque, a fatty, waxy substance that can build up in artery walls. Atherosclerosis is a condition where plaque builds up in the walls of coronary arteries. It is the number one killer in developed countries. We are providing models created in Blender, with animation of arteries with plaque and without. We then imported these models into Unity and created a simulation system to allow experiments on how plaque restricts blood flow, and how to restore the blood flow. Our system will continue to improve and allow research experiments.
Year 7 – 8
1st  Place: International Grammar School with Plants vs Zombies (by Maya Braun and Max Meyer)
Our project is a computer powered plant watering system. Our project uses a mini computer that is programmed with the Arduino development program. The minicomputer then reads multiple sensors and accesses the weather forecast form the internet via wifi and controls a little water pump. Plants vs zombie's uses four different sensors; a moisture sensor, a rain/water sensor, a light sensor and a temperature sensor. With plants vs zombies we hope to achieve to make the plant survive by automatically watering a plant depending on the soil moisture and the weather forecast.
2nd Place: Kooringal High School with BrainLoad (by Lachlan Wordsworth)
App to increase reading speed (by displaying text word by word at such a fast rate that it supresses sub vocalisation)
3rd Place: Mansfield State High School with Swift (by Neel Dave)
Swift is an innovative program, that allows the user an unrivalled internet browsing experience. Swifts user interface is minimalistic and user friendly. Swift has incorporated a range of applications to make your browsing experience more efficient and enjoyable. Using the 'Scompare Windows' allows the user to multitask with a range of Swift Applications. Swift has a range of applications to assist the user in whatever task they are doing that requires a web browser.
Year 9 – 10
1st  Place: Whitsunday Anglican School with School Administration System (by John Hatfield, Jake Magro, Ryan Olsen)
We are developing Staff, Student & Parent School Portal is a portal which enables staff to manage rolls, post notices for students, and create classes for file sharing, blogs and surveys for students. It also enables students to check their timetable, view their academic reports and manage their homework in an online portal, removing the need for a diary. It also enables students to be able to view what work they missed if they were absent. The Parents portal will allow communication with teachers through an easy online chat; retrieve teachers email addresses, book interviews,
2nd Place: John Monash Science School with The Lucky Block Minecraft Mod (by Alex Socha)
The project I created is a Modification ('Mod') for the popular game Minecraft. It is a downloadable addition to the game, designed to add a new aspect for users to enjoy. My project adds a single new block to the game (The Lucky Block), which, when harvested by a player, will result in a random outcome. These outcomes range from explosions and monsters, to valuable items and resources. In total, I have created over 100 various outcomes.
3rd Place: KidTechnic with Robocup Junior Rescue Maze League China 2015 (by Rory Wade, Ines Kusen)
Our project is an entry into Robocup Junior International. We were in a division called Rescue B which is based around a maze. Our robot needs to be built to navigate the whole two level enclosed maze with islands and a 30 degree ramp to find humans (which are heat patches on the wall) and drop a small package.
Year 11 – 12
1st  Place: Chatswood High School with School Bytes: E-learning platform (by Blake Garrett)
School Bytes is an online platform for students and teachers across Australia. It allows schools to register and utilise a secure online environment to share resources, upload assessments and take quizzes. Its purpose is to allow students and teachers to share educational resources, complete and submit assessments as well as take online quizzes. What makes School Bytes powerful is its integration with other education software vendors. One current integration is with the NSW Department of Education Active Directory allowing students and teachers in any NSW state school to log in to School Bytes using their existing school logins.
2nd Place: Canberra College with Musaco (by Aidan Sawers, Tomasz Stawowczyck, James Callaway)
This Arduino based midi controller can not only output midi signals to control virtual synthesizers and play music but it can also take midi input to light up buttons and allow performers to not only produce music but also create visually appealing light shows.
3rd Place: Brisbane Girls Grammar School with 3D Maps for Industry (by Imogen Low)
As users of mobile technology devices we use navigation on the road, but when we enter a door, we lose the power of location, and indoors is where we spend most of our time. I believe all businesses around the world can provide better mapping systems for their clients. Particularly as users requiring more detailed inside mapping navigation systems to quickly and easily access locations from any smart phone web browser, including schools, shopping centres, hospitals, museums, casinos, hotels, and universities. I built this web app which includes an interactive 3D map of my school campus. After building the app is in development and I will pitching it through my soon to be live web portfolio.